Accommodation
Variety of accommodation

(Disabled access to double room)

Fully licensed restaurant
Pet friendly (camp site only)
A/C
Laundry
Snacks, Coffee
Petrol, ULP and Diesel
Fully licensed restaurant
Caravan & Camping
Spacious and grassy spots, perfect for parking up or pitching a tent. Powered $30. Unpowered $20.
The caravan and camping sites work on a first-come, first-serve basis, we don't take bookings.
Family Room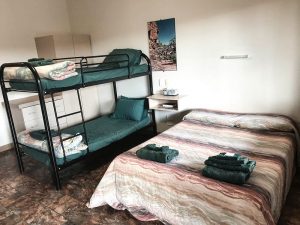 Double bed with an option of an extra single bed or bunk bed (suitable for children up to 13 year old). Ensuite bathroom with fresh linens. From$170/night.
Double Room
Comfy double bed + one single bed and ensuite bathroom. Room complete with a TV and refrigerator. From $150/night.
Single Room
Single bed with TV & refrigerator with ensuite bathroom $120/night or shared bathroom $75/night.
Facilities